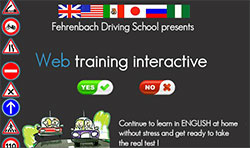 This is a complete web training pack (4 months), you have access to this course for a fixed period of 4 months. These driving lessons online will save your time and money by using advanced multimedia technology and a relentless focus on cutting-edge courses.
Before applying for your practical driving test you must pass the theory test. The best way to prepare for the theory test is to follow the full Training Pack Course and learn the rules in the French Highway Code. We recommend that you take your theory test a few weeks before your practical test.
Information:
Iphone users must download free Puffin application on Apple store.
Android users must download free flash plugin.